News
New Head of Adjara's Local Govt Approved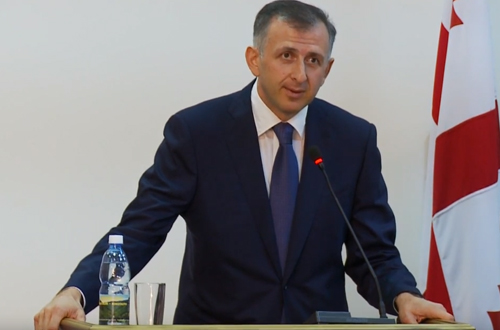 New head of Adjara Autonomous Republic's government, Zurab Pataradze, addresses local parliament, July 15, 2016.
Supreme Council, Adjara Autonomous Republic's local parliament, approved Zurab Pataradze, who was Georgia's ambassador to Kazakhstan, as new head of local government of the region, replacing Archil Khabadze, who stepped down last week, three months before the elections.
Pataradze, nominated by President Giorgi Margvelashvili in agreement with the PM, was confirmed by the 21-member Supreme Council with 12 votes, one vote more than the required minimum.
Although the Georgian Dream ruling coalition lost the majority in the council last year, Pataradze garnered enough votes after the support from legislators from the Free Democrats party.
Members of the United National Movement opposition party, as well as one former GD legislator, who were against of the nomination, did not participate in the vote.
Even if Pataradze had failed to gain enough votes in the Supreme Council, he would have still performed duties of the head of the local government in Adjara, because the President used his constitutional powers and appointed him, with the consent from the PM, as a provisional head of the government, or rtsmunebuli as the position is called in Georgian, meaning "trustee". The move was criticized not only by the opposition members of the Supreme Council, but also by some of GD coalition members.

"My door will always be open for any political party regardless of its position. Be sure, I am ready for relations with opposition, because your experience will be very important for me," Pataradze told the Supreme Council members before the vote.
Pataradze, 43, native of Batumi, worked at anti-organized crime unit of Adjara Autonomous Republic's interior ministry before joining the Foreign Ministry in 2000.
Since 2004 Pataradze was a second secretary at the Georgian embassy in Moscow in charge of consular service and after Georgia and Russia cut diplomatic ties, Pataradze served as a consular at the Georgian interests section at the Swiss embassy in Moscow till 2009.

Pataradze then served as Georgia's consul general in the northern Greek city of Thessaloniki and was ambassador to Turkey from 2012, before becoming ambassador to Kazakhstan in mid-2013.
Pataradze's predecessor, Archil Khabadze, was head of the local government in Adjara since October, 2012. Before taking office he was a director of then PM Bidzina Ivanishvili-affiliated Cartu Bank's Batumi branch.
Khabadze cited the need to "renew and further strengthen" governing party in Adjara as the reason behind his decision to resign on July 6.
His resignation came few days after ex-head of the Adjara government, Levan Varshalomidze, returned to Batumi and launched a campaign for upcoming elections; Supreme Council election in Adjara will be held simultaneously with the parliamentary elections on October 8.
Varshalomidze served as head of Adjara Autonomous Republic's local government in 2004-2012 under then President Mikheil Saakashvili's administration.
Saakashvili, who is now governor of Ukraine's Odessa region, said in early May that Varshalomidze, who spent last couple of years in Ukraine, should return to Adjara and become head of the region after the UNM opposition party, which Saakashvili chaired before losing Georgian citizenship, wins in the October elections.
This post is also available in: ქართული (Georgian) Русский (Russian)