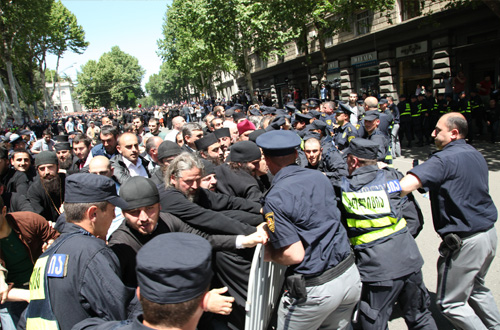 Anti-gay protesters, led by Orthodox priests, push their way through police cordons as they move towards the Freedom Square to thwart a rally marking the International Day Against Homophobia. Photo: Guram Muradov/Civil.ge
Deeply entrenched anti-gay prejudice spilled out in violence in the streets of downtown Tbilisi on May 17 as huge angry crowd, led by Orthodox clergy, confronted few dozen of gay rights activists, who wanted to hold a rally to mark the International Day Against Homophobia.
Thousands of anti-gay protesters, among them activists from Orthodox groups and priests, started gathering in Tbilisi center hours before the pre-announced anti-homophobia rally, occupying area outside the former parliament building on Tbilisi's main thoroughfare, Rustaveli Avenue, where gay rights activists originally planned to gather.
At anti-homophobia rally's counter demonstration some carried banners reading 'Stop Homosexual Propaganda in Georgia'; 'Ban Propaganda of Indecency', others carried Orthodox icons and one group of anti-gay protesters were carrying nettles, saying "homosexuals have to be stung".
A day earlier, on May 16, head of the influential Georgian Orthodox Church, Patriarch Ilia II, called on the authorities in a written statement to ban planned gay rights rally, denouncing it as "encouragement" of "anomaly and disease."
Three days earlier, PM Ivanishvili said sexual minorities were equal citizens and the society would "gradually get used to it"; he pledged to provide safety of planned gay rights rally participants.
Anti-homophobia rally was scheduled for 1pm outside the former parliament building, but as large number of opponents were occupying the area gay rights activists had to resort to plan B, involving change of venue and holding the rally in an area adjacent to Freedom Square and Rustaveli Avenue.
There was visibly heavy police presence on Rustaveli Avenue, on adjacent Freedom Square and on nearby streets.
Police cordon was blocking the Rustaveli Avenue on the direction of the Freedom Square, which seemed as a protection to prevent anti-gay protesters from moving towards anti-homophobia rally.
As the news about change of venue was spread, anti-gay protesters, led by Orthodox priests, started moving towards the Freedom Square.
They pushed police cordon and passed through it easily without meeting much resistance from the police; chaotic scenes started to spread first on Freedom Square, then on nearby streets and later even further from the original venue of protests.
As anti-gay protesters started flooding Freedom Square, police rushed to escort gay rights activists to several municipal buses and a van, driving them away from the scene in what appeared to be a prearranged plan for evacuation.
Police escort gay rights activists to municipal buses to evacuate them from the scene as anti-gay protesters started flooding Freedom Square. Photo: Guram Muradov/Civil.ge
Later on the day some human rights groups criticized the police of concentrating more on safe evacuation of anti-homophobia rally participants rather than focusing on preventing angry mob from approaching the rally.
Aggressive young men, as well as some priests, started chasing buses and those they thought were participants of anti-homophobia rally. "Kill these whores," one shouted.
On Leselidze Street, adjacent to Freedom Square, throng of anti-gay protesters trapped a bus, which they wrongly thought was carrying gay rights activists; but before finding it out some of the attackers threw street trash cans into bus' front window and others forced a driver out of the bus.
In a separate location, not too far from the Freedom Square, a van, reportedly carrying gay rights activists, was surrounded by large group of people, some throwing stones and other objects at it; one journalist was hit into her head and hospitalized.
Total of 28 people were injured, according to the healthcare ministry, with half of them requiring hospitalization, including at least three policemen.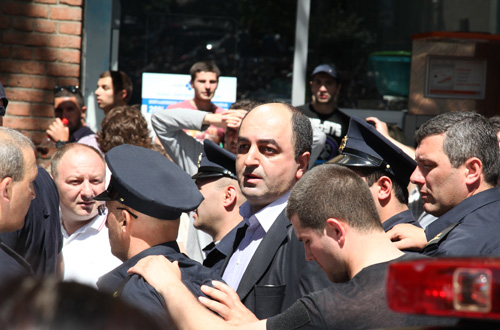 Public Defender, Ucha Nanuashvili, seen in the middle. He was verbally confronted by anti-gay protesters and the police had to intervene to escort him from the area. Photo: Guram Muradov/Civil.ge
Close to the Philharmonic Hall, more than a kilometer away from the original hotspot, a young man and a woman, thought by anti-gay protesters to be affiliated with gay rights activists, were assaulted; the couple found shelter in a nearby Populi supermarket. Police was deployed on the scene to prevent a large group of people from storming the place. When Public Defender, Ucha Nanuashvili, arrived on the scene, he was verbally confronted by anti-gay protesters and the police had to intervene to escort him from the area.
Anti-gay protesters started to dwindle in downtown Tbilisi streets after one senior Orthodox cleric called on them to move to the Holy Trinity Cathedral for a prayer. Later on the same day Patriarch Ilia II called in televised remarks for calm, but also reiterated that gay rights activists' rally amounted to propaganda of homosexuality, which was unacceptable.
In a written statement on Friday evening PM Ivanishvili condemned the violence and vowed that perpetrators "will be dealt with according to the law".
In televised remarks from the United States, President Saakashvili also condemned the violence and blamed the current government's policies for, as he put it, increase of violence in the society.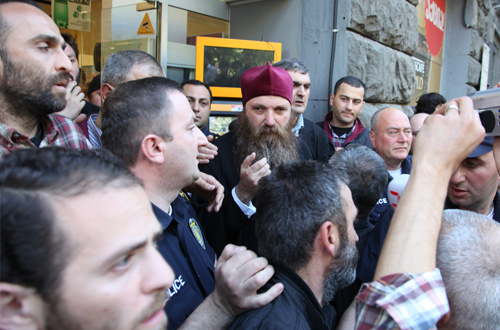 A high-ranking cleric in the Georgian Patriarchate, Bishop Jakob, tells anti-gay protesters to move to the Holy Trinity Cathedral for prayer. In the cathedral, Bishop Jakob said that the Georgian nation demonstrated its "identity" on May 17 and added that "what happened today was the order coming from the nation." Photo: Guram Muradov/Civil.ge
There were mixed reactions to the May 17 developments within PM Ivanishvili's Georgian Dream parliamentary majority group. MP Davit Saganelidze, who is a chairman of GD majority group in the parliament, put the blame on organizers of the anti-homophobia rally, saying that they and their sponsors were responsible for this "provocation". The remarks were condemned by the rights groups as inflammatory.
Another lawmaker from GD parliamentary majority, Tina Khidasheli, strongly condemned the violence and said: "There is no argument whatsoever that can justify the vandalism that we have seen."
She, however, disagreed with criticism of police actions and defended them as "adequate", arguing that resorting to force against counter demonstrators would have backfired with more complications, violence and unrests.
Interior Ministry spokesperson said later on May 17 that the investigation was ongoing and unspecified number of proceedings under both criminal code and administrative offenses code were initiated.
No arrests were reported as of late May 17.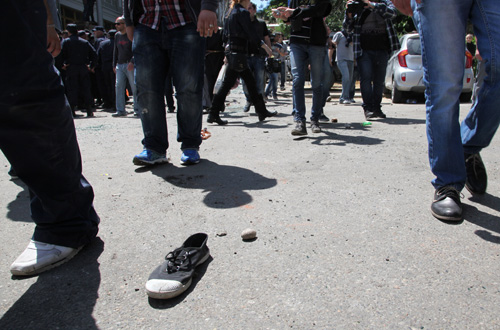 Photo: Guram Muradov/Civil.ge
Amnesty International has called on the Georgian authorities to investigate the violence and bring to justice those responsible.
"It is becoming a dangerous trend in Georgia to condone and leave unpunished the acts of violence against religious and sexual minorities if they are perpetrated by the Orthodox religious clergy or their followers. It is simply unacceptable for the authorities to continue to allow attacks in the name of religion or on the basis of anyone's real or perceived sexual orientation or gender identity," said John Dalhuisen, Europe and Central Asia Programme Director at Amnesty International.
Secretary of National Security Council, Giga Bokeria, criticized those Orthodox clergy, who led anti-gay protesters and said: "Any cleric, who commits violence or calls for violence in a dangerous situation, is committing a crime, according to the Georgian legislation. I hope there will be people in the Church who will say this. But, unfortunately, in today's developments 'moral' initiative was in the hands of those, who preach hatred and commit violence. These people should be punished in accordance to the law."