News
Research: Georgia's economic freedom advanced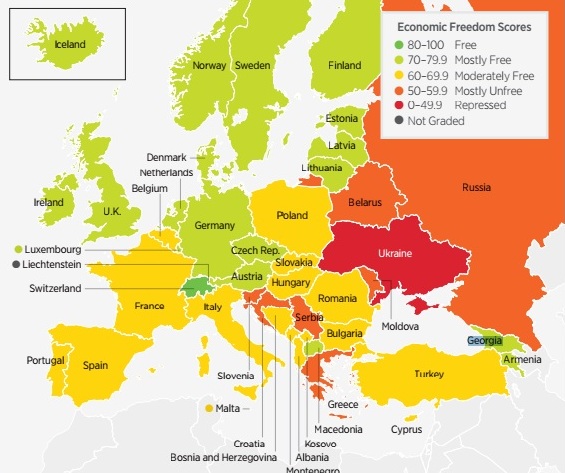 2017 Index of Economic Freedom, Europe. Source: Heritage Foundation
According to the 2017 Index of Economic Freedom, an annual publication by the Heritage Foundation, Georgia is ranked as 13th freest economy in the world and 5th freest in Europe, falling behind Switzerland, Estonia, Ireland and the United Kingdom.
Georgia's overall score has improved by 3.4 points since last year reaching 76 points. As a result, the country still remains in the "mostly free" category.
Georgia's government, the report said, maintained "strong momentum" in liberalizing economic activity while "taking steps" to restore fiscal discipline.
Public debt and budget deficits "remain under control," according to the report. "Large-scale privatization has advanced, and anticorruption efforts have yielded some notable results," it added.
"Open-market policies, supported by competitively low tax rates and regulatory efficiency, have facilitated flows of trade and investment," it also said.
The report stated that the "well-maintained" monetary stability and fiscal health has contributed to macroeconomic resilience. Nonetheless, "deeper and more rapid" institutional reforms to enhance judicial independence and effectiveness remain "critical" to ensuring further economic development.
The Index of Economic Freedom measures economic policy developments in 186 countries.
Countries are graded and ranked on a scale from 0 to 100 with 12 components of economic freedom that evaluate the rule of law, government size, regulatory efficiency, and the openness of markets.