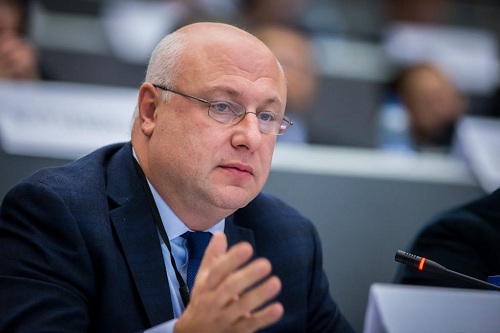 Giorgi Tsereteli at OSCE PA Autumn Meeting in Geneva, October 5, 2014. Photo: the Swiss Parliament/Fabio Chironi
On November 9, a Member of the Georgian Parliament Giorgi Tsereteli assumed duties of the acting President of the OSCE Parliamentary Assembly.
Giorgi Tsereteli, who is a member of the European Georgia party, took the post after the previous OSCE PA President Christine Muttonen stepped down, due to his seniority as the OSCE PA Vice-President, being first elected to that position in 2012 and re-elected in 2015.
In an October 20 farewell letter to the OSCE PA Standing Committee, Muttonen wished Tsereteli success in his service of the PA, stressing importance of a smooth presidential tradition.
Giorgi Tsereteli was first elected to the Georgian Parliament in 1999, serving as its Deputy Chairman in 2000-2004 and 2008-2012. Presently he is the chairman of the European Georgia – Movement for Liberty faction and sits at the parliamentary committees of Foreign Affairs and Healthcare and Social Issues.