News
Azerbaijani, Georgian, Turkish FMs Meet in Baku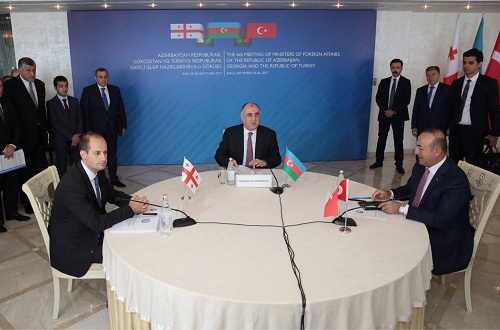 Georgian, Azerbaijani and Turkish FMs, September 6, 2017. Photo: MFA Azerbaijan
Foreign Ministers of Azerbaijan, Georgia and Turkey, Elmar Mammadyarov, Mikheil Janelidze and Mevlüt Çavuşoğlu, respectively, met in Baku on September 6 at their sixth trilateral meeting since 2012 when the trilateral format was launched in Trabzon.
At the ministerial meeting, the foreign ministers spoke, among other issues, on regional and trilateral economic and commercial cooperation.
In their joint statement of the meeting, the foreign ministers stressed the importance of the "earliest start of operation" of the Baku-Tbilisi-Kars Railway, which will link Azerbaijan with Turkey via Georgia.
The sides also highlighted their strategic partnership in the field of energy and "reaffirmed their full political support for Trans Anatolian Pipeline (TANAP), other important components of the Southern Gas Corridor (SGC), as well as for energy projects aimed at transporting hydrocarbon from the Caspian basin to Europe."
They also highlighted the importance of trilateral cooperation along the Great Silk Road route in order "to revive and conserve the Road, and underlined further enhancing cooperation in the fields of transport, energy, trade, culture and tourism, and people-to-people contacts across the Silk Road route."
As part of his visit to Azerbaijan, Foreign Minister Mikheil Janelidze held face-to-face meetings with Elmar Mammadyarov and Mevlüt Çavuşoğlu, as well as with Azerbaijani President Ilham Aliyev.
The foreign ministers agreed to hold the next trilateral meeting in Turkey.
This post is also available in: ქართული (Georgian) Русский (Russian)