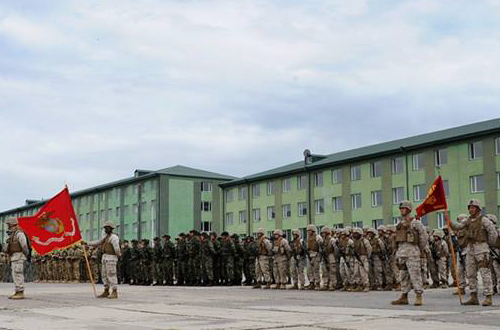 Opening ceremony of the Agile Spirit 2015 military exercises with the participation of troops from Georgia, U.S., Bulgaria, Latvia, Lithuania and Romania at the Vaziani military base outside Tbilisi, July 8, 2015. Photo: Georgian MoD
Georgian soldiers along with up to 220 U.S. marines and platoon-size units from Bulgaria, Latvia, Lithuania and Romania launched two-week long joint military exercises at the Vaziani base outside Tbilisi on July 8.
Agile Spirit 2015 drills involve exercises in peacekeeping and support operations.
Service members from the 42nd battalion of the 4th mechanized brigade of the Georgian Armed Forces are participating in the drills.
Representatives from the Armenian and Moldovan armed forces are attending the exercises as "observers", the Georgian Ministry of Defense said.
Agile Spirit exercises were initially bilateral U.S.-Georgian military drills held annually in Georgia since 2011.
But this year U.S. and Georgia launched separate annual joint drills – Noble Partner – that were held in May, and Agile Sprit has now turned into multinational exercises.
The Georgian Ministry of Defense said that Agile Spirit 2015 "are held in frames of NATO-Georgia substantial package" endorsed by the NATO leaders at the summit in Wales last year.
"One of the priority areas of the package is holding of NATO exercises on the territory of Georgia," it said.