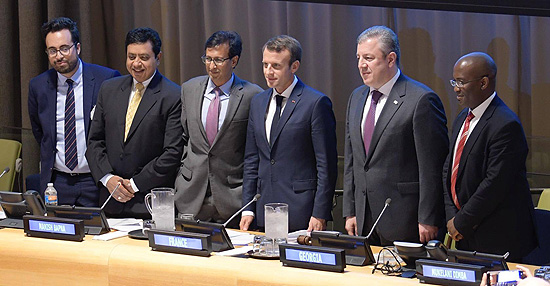 Emmanuel Macron and Giorgi Kvirikashvili (fourth and fifth from the left), September 19, 2017. Photo: facebook.com/OpenGovernmentPartnership
Georgia has succeeded France as the lead chair of the Open Government Partnership (OGP) and will guide its activities until October 2018.
The transition took place at a high level side event on September 19 at the 72nd Session of the United Nations General Assembly. Also at the meeting, the International School for Transparency replaced the World Resources Institute as the OGP co-chair.
Prime Minister Giorgi Kvirikashvili, who personally assumed the position from French President Emmanuel Macron, listed four priorities of Georgia's chairmanship: strengthening co-creation and citizen engagement; advancing transparency and the fight against corruption; generating innovation in public service delivery; and building a better partnership within OGP.
During the event, OGP also released a new publication on the importance of trust in government featuring over twenty leading thinkers and practitioners, including PM Kvirikashvili, who focused on Georgia's past engagement with the Partnership and its chairmanship priorities.
"It is our government's honor to be trusted to serve as the next chair of OGP and contribute to a future for a powerful global movement for openness and deeper democracies. Now is a remarkable time for the Partnership and we will work with our partner countries and civil society to ensure people's opportunity to influence government decisions that affect their daily lives," he wrote.
As the lead chair, Georgia will be responsible for establishing a temporary secretariat during its term, which will work with the OGP Support Unit to formulate and implement OGP's strategy, host meetings of the Steering Committee, and organize the annual OGP conference.
Launched in September 2011, the Open Government Partnership is a multilateral initiative uniting 75 member states and aimed at fighting against corruption and facilitating transparency, effectiveness and accountability of governance, as well as harnessing new technologies for these purposes.